take me with you, choose to reuse
ecosac
EcosacTM was established out of a growing concern for the impact of single-use plastic shopping bags* and a commitment to ethical standards in business.
We recognize that consumers, retailers and organizations are becoming increasingly attracted to brands that represent well-balanced principles. Our balance lies centrally between a customized focus for your business, daily lifestyle simplicity, eco-friendly ethics and wholesome values.
EcosacTM is committed to promoting awareness about the full impact of disposable bags* and to supplying the highest quality eco-friendly reusable bags.  Our bags are customized in various designs, sizes and colors at competitive prices-Guaranteed!  Win-win partnerships, one-stop services, streamlined supply chain and service excellence help us to add value to our products and customers. 
*Worldwide plastic bag consumption is estimated about 1.2 trillion per annum, with Canadian  alone consuming around 9 billion plastic singlet-style shopping bags. Experts widely acknowledge that reusable shopping bags like non-woven bags are the most responsible and effective alternative.
"The smaller footprint, the better environment."
We do not inherit the earth from our ancestors, we borrow it from our children."           
                                                                                                      Native American Proverb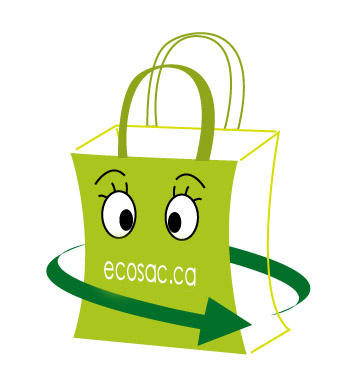 © 2006 ecosac.ca All Rights Reserved
 "Ecosac helps to raise awareness of broader environmental issues and  continues to develop more eco-friendly attitutes."